Where is Reading Pane in Microsoft Outlook 2010 and 2013
Reading Pane in Outlook can help users preview items in the Inbox without opening them. The text of messages is displayed in the reading pane and it is of safety to open attachment, follow hyperlinks, and respond to meeting requests in the reading pane. Provided below is telling you how to find the Reading Pane in the ribbon of Microsoft Outlook 2010 and 2013.
On Menus tab, click View menu to bring up the drop-down menu, and the Reading Pane is below the To-Do Bar. You can turn off or make a setting to the reading pane or change the location of Reading Pane from the sub-menu.
See Fig.1: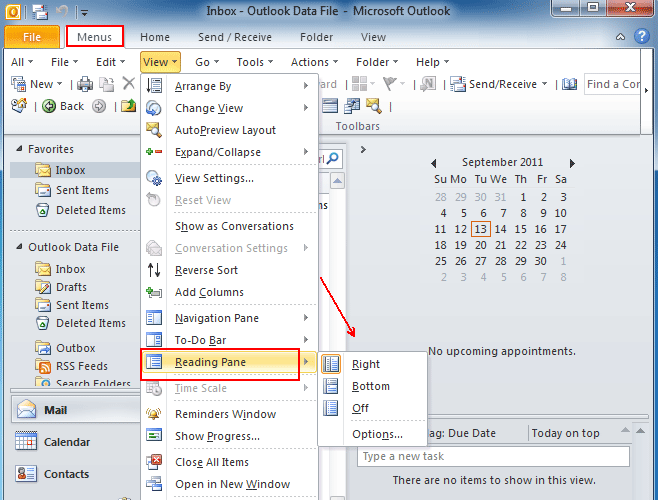 Fig.1
Click Options, there appears the Reading Pane window. Here you can make some setting to Reading Pane options, such as Mark items as read when viewed in the Reading Pane, Mark item as read when selection changes and Single key reading using space bar.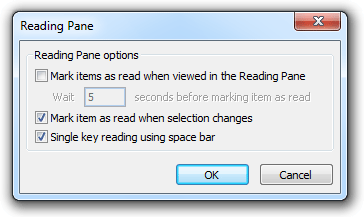 Fig.2

---
Open Microsoft Outlook 2010/2013, on the View tab, the Reading Pane is placed at the second place of the Layout group. Click Reading Pane, it will appear a pull-down menu, from which you can change the location of Reading Pane, like Right or bottom, or you may choose to close off the reading pane. Also you can make a setting from the Options.
See Fig.3:

Fig.3
---
What is Classic Menu for Office/Outlook
Brings the familiar classic menus and toolbars back to Microsoft Office 2007, 2010, 2013, 2016, 2019 and 365, helps users get through the transition from Office 2003 (or 2002, 2000) to Office 2007, 2010 or 2013, and saves your money and energy on training if you are upgrading your Office.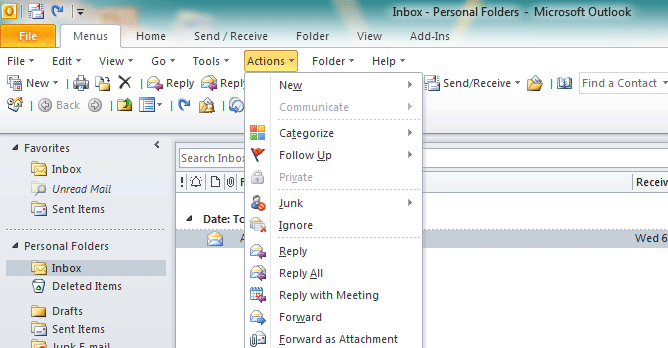 | | | |
| --- | --- | --- |
| | | It includes Classic Menu for Word, Excel, PowerPoint, Access, Outlook, OneNote, Publisher, InfoPath, Visio and Project 2010, 2013, 2016, 2019 and 365. |
| | | It includes Classic Menu for Word, Excel, PowerPoint, Access and Outlook 2007. |