Where is Recover Deleted Items in Microsoft Outlook 2010 and 2013
Sometimes you will delete items by accident, and maybe they are very important. At that time you think that it must be a disaster because you do empty the Deleted Items folders, which means that you permanently remove them and cannot get them back. Is it really impossible to make up for the mistakes? No. There is a solution to recover the deleted items.
Just take Microsoft Outlook 2010 for example, which is as well as in Outlook 2013. With Classic Menu for Outlook 2010 and 2013 installed, you can click Menus tab to get back the classic style interface.
On Menus tab, click Folders menu

Choose Recover Deleted Items in the drop down menu

Then the Recover Deleted Items window pops up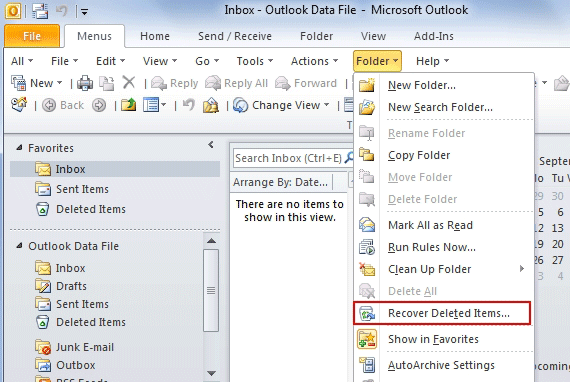 Fig.1

---
In Outlook 2010 and 2013, there is no Tools menu in the Ribbon.
Click Folder Tab

Move to Clean Up group

You may see the Recover Deleted Items button lies in the group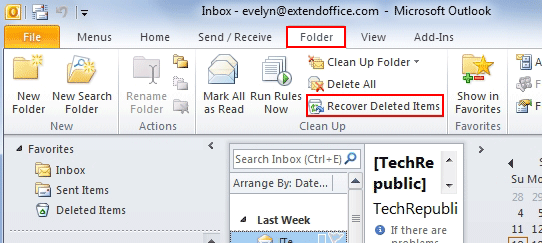 Fig.2
---
Note: If you find that the recover deleted item icon is gray, which means that you need to do some setting to the exchange server.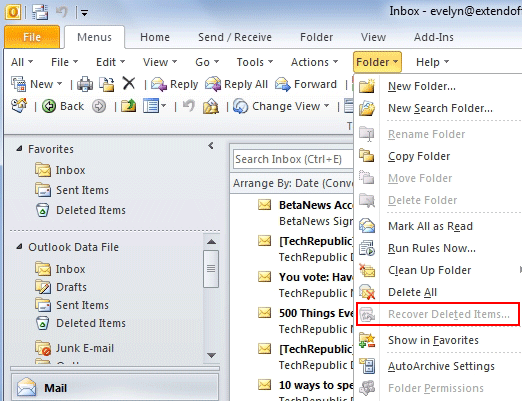 Exit Outlook.
Open the Windows registry editor.
Browse to My Computer\HKEY_LOCAL_MACHINE\Software\Microsoft\Exchange\Client\Options.
On the Edit menu, point to New, and then click DOUTLOOK Value.
Type the name DumpsterAlwaysOn (recommend you to copy it).
Set the DOUTLOOK value to 1.
Restart Outlook.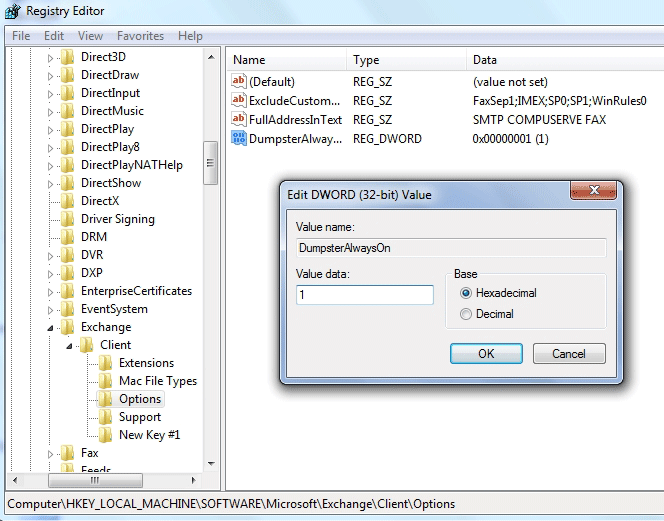 The Tools menu now has the Recover Deleted Items command for every Outlook folder.
---
What is Classic Menu for Office/Outlook
Brings the familiar classic menus and toolbars back to Microsoft Office 2007, 2010, 2013, 2016, 2019 and 365, helps users get through the transition from Office 2003 (or 2002, 2000) to Office 2007, 2010 or 2013, and saves your money and energy on training if you are upgrading your Office.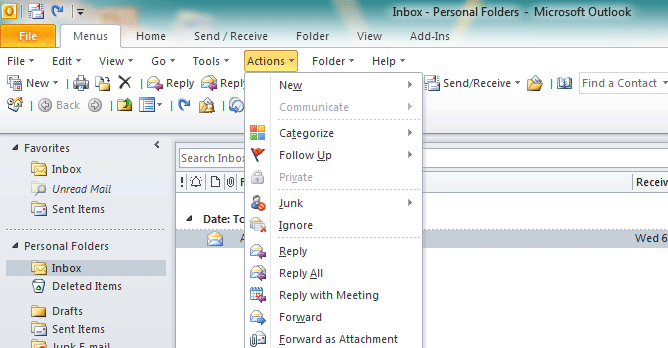 | | | |
| --- | --- | --- |
| | | It includes Classic Menu for Word, Excel, PowerPoint, Access, Outlook, OneNote, Publisher, InfoPath, Visio and Project 2010, 2013, 2016, 2019 and 365. |
| | | It includes Classic Menu for Word, Excel, PowerPoint, Access and Outlook 2007. |