Where is Select All in Microsoft Outlook 2010 and 2013
Ribbon Interface of Microsoft Outlook 2010 and 2013 are different from classic style interface of Outlook 2003. It may bring trouble for some people to search commands and icons in new ribbon before they are familiar with Office 2010/2013. Now, with Classic Menu software, you can find back classic menus and toolbar of Outlook 2003.
How to find the Selcet All in Outlook 2010 and 2013? First of all, you need to get the message window. Start Microsoft Outlook 2010/2013, click New-E-mail to create a mail so that the message window appears.
Navigate to Menus tab, click Edit menu and then you can see Select All from the Select dro-down menu.
See it below: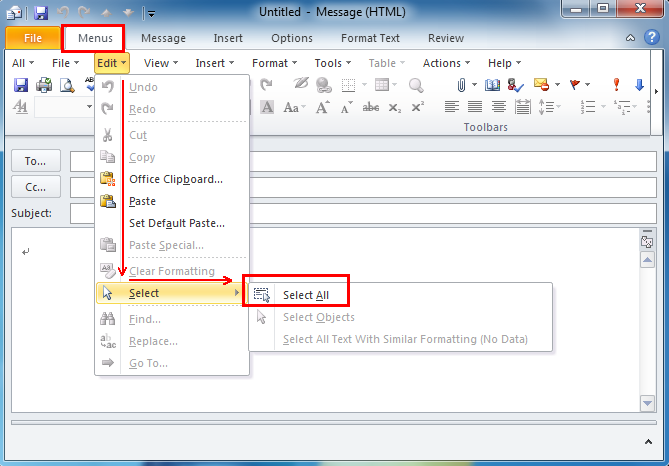 ---
In the message window, on Format Text tab, click the Editing dialuge box laucher at the rightmost of the ribbon, and you can see Select from the drop-down menu. And then Select All can be found from the level 2 drop-down menu.
See it below: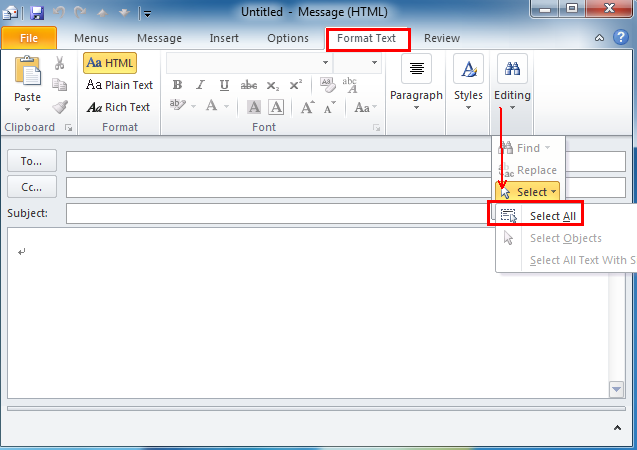 ---
What is Classic Menu for Office/Outlook
Brings the familiar classic menus and toolbars back to Microsoft Office 2007, 2010, 2013, 2016, 2019 and 365, helps users get through the transition from Office 2003 (or 2002, 2000) to Office 2007, 2010 or 2013, and saves your money and energy on training if you are upgrading your Office.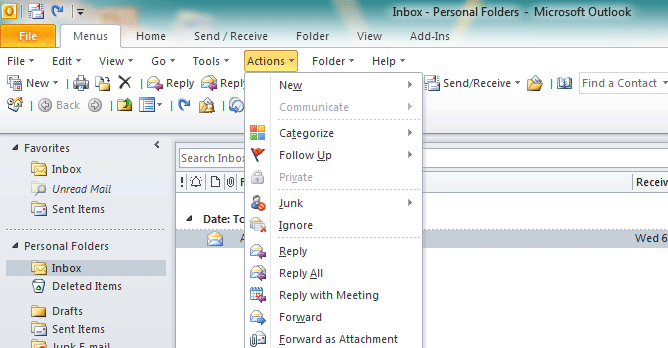 | | | |
| --- | --- | --- |
| | | It includes Classic Menu for Word, Excel, PowerPoint, Access, Outlook, OneNote, Publisher, InfoPath, Visio and Project 2010, 2013, 2016, 2019 and 365. |
| | | It includes Classic Menu for Word, Excel, PowerPoint, Access and Outlook 2007. |