Where is Spell Check in Microsoft Outlook 2010 and 2013
While you work in a document, the spelling checker plays an important role, which searchs for mistakes in the document. We ofter call the Spelling and grammar checker as Spell Check. This article is telling you how to find the spellig check in the ribbon of Microsoft Outlook 2010 and 2013, whether you have classic menus and toolbar or not.
On Menus tab, you can obviously see Tools menu next to Format menu on the toolbar. And there is Spelling & Grammar from the tools drop-down menu.
See it below: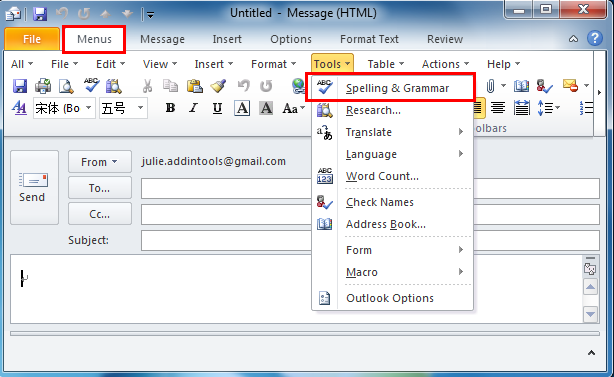 ---
All Microsoft Office 2010/2013/2016/2019 programs come with the ability to check the spelling and grammar of your file. In Microsoft Outlook 2010 and 2013, on the Review tab, at the leftmost corner in the Proofing group lists Spelling & Grammar command.
See it below: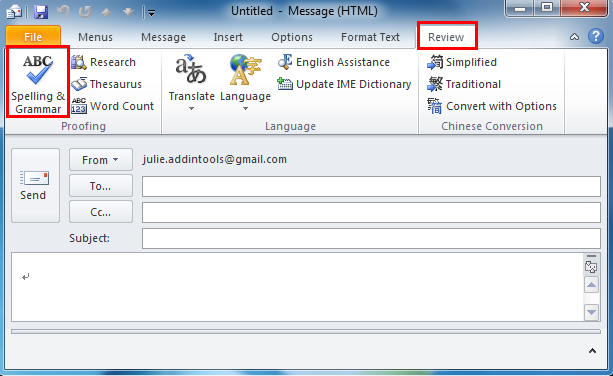 ---
What is Classic Menu for Office/Outlook
Brings the familiar classic menus and toolbars back to Microsoft Office 2007, 2010, 2013, 2016, 2019 and 365, helps users get through the transition from Office 2003 (or 2002, 2000) to Office 2007, 2010 or 2013, and saves your money and energy on training if you are upgrading your Office.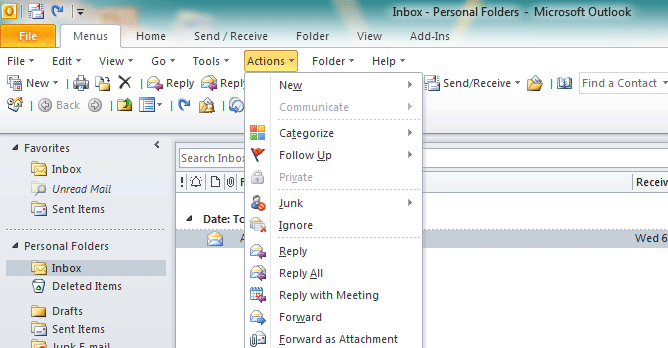 | | | |
| --- | --- | --- |
| | | It includes Classic Menu for Word, Excel, PowerPoint, Access, Outlook, OneNote, Publisher, InfoPath, Visio and Project 2010, 2013, 2016, 2019 and 365. |
| | | It includes Classic Menu for Word, Excel, PowerPoint, Access and Outlook 2007. |