Where is Trust Center in Microsoft Outlook 2010 and 2013
Trust Center is where is available to change the setting of security and privacy for Microsoft Outlook. The new ribbon interface brings groups of icons and commands for intuitive glance, but it seems a bit difficult to find the commands for those who begin to use outlook 2010 and 2013. Where is Trust Center in Outlook 2010/2013? You can find the answer after reading this article.
On Menus tab, click Tools menu to bring up the drop-down menu. And you can easily see the Trust Center command at the bottom from the Tools drop-down menu.
See Fig.1: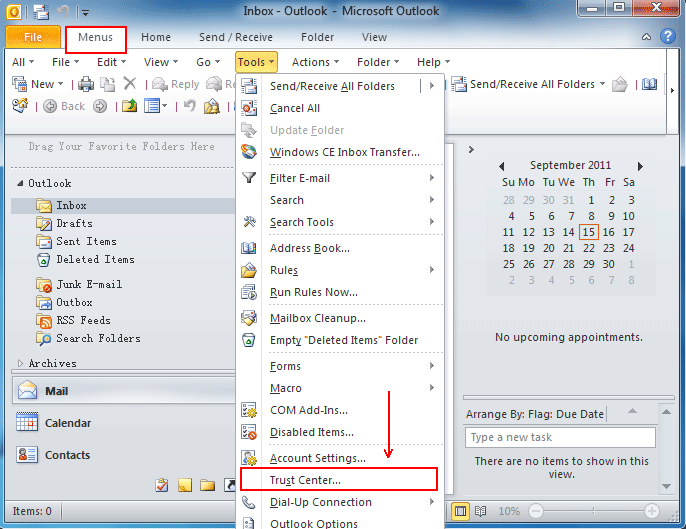 Fig.1
Click Trust Center, there will appear the Trust Center window, where you can make the security and privacy setting for your outlook 2010/2013, such as Trusted Publishers, Privacy Options, E-mail Security, Attachment Handling, Automatic Download, Macro Settings and Programmatic Access.
See Fig.2: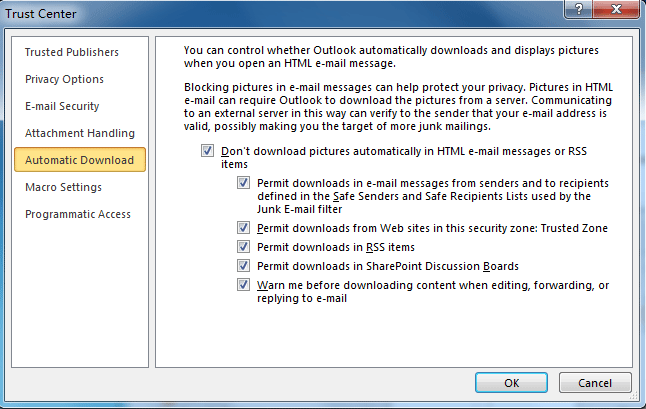 Fig.2

---
Without classic style interface in Microsoft Outlook 2010 and 2013, it is unavailable to find the trust center in the new ribbon, but you can still search this command following the below way:
Open Microsoft Outlook 2010/2013;
Click on the File tab;
Click Options;
Click Trust Center tab at the bottom in the Outlook Options window. And you can see Microsoft Outlook Trust Center pane displaying at the bottom of the body part.
Note that if you want to change the setting of the privacy and security, just click the Trust Center Setting button and it will appear the Trust Center window.
See Fig.3: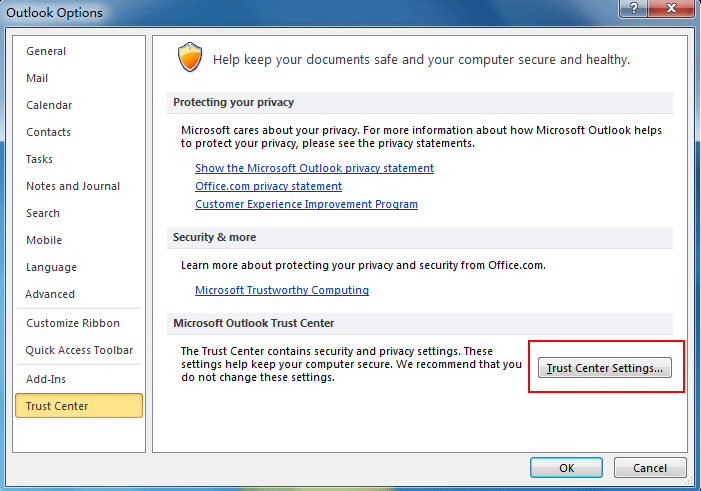 Fig.3

---
What is Classic Menu for Office/Outlook
Brings the familiar classic menus and toolbars back to Microsoft Office 2007, 2010, 2013, 2016, 2019 and 365, helps users get through the transition from Office 2003 (or 2002, 2000) to Office 2007, 2010 or 2013, and saves your money and energy on training if you are upgrading your Office.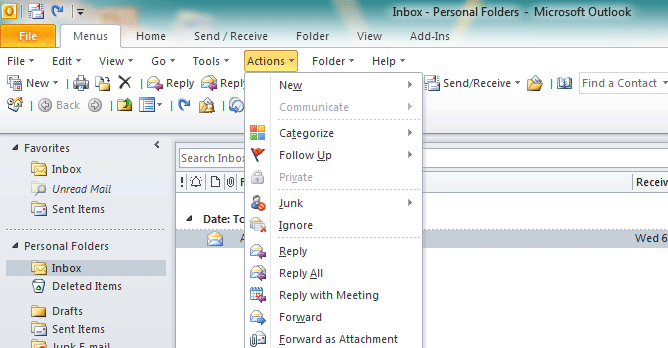 | | | |
| --- | --- | --- |
| | | It includes Classic Menu for Word, Excel, PowerPoint, Access, Outlook, OneNote, Publisher, InfoPath, Visio and Project 2010, 2013, 2016, 2019 and 365. |
| | | It includes Classic Menu for Word, Excel, PowerPoint, Access and Outlook 2007. |