Where is the About in Word 2003, 2007, 2010, 2013, 2016, 2019 and 365?
Have you experienced the moment someone asked what the version of Microsoft Office you were using but you had no idea? Do you know which service pack you installed when the computer technician suggests you should install the latest patch for your Office?
Perhas you may know you are using Office 2003, Office 2007 or Office 2010, because they can be easily distinguished from the classic menu style interface and ribbon interface. But it is not easy to remember your Microsoft Office belongs to which suite and other useful version information.Take it easy, Microsoft Office itself provides About Microsoft Office to fix all. The instructions listed below can guide you how to find About dialogue and version information separately in Microsoft Office 2003, Office 2007 and Office 2010.
About Microsoft Office Word 2003
Open one word document, click Help tab and from the drop-down menu you can see obviously About Microsoft Office Word item.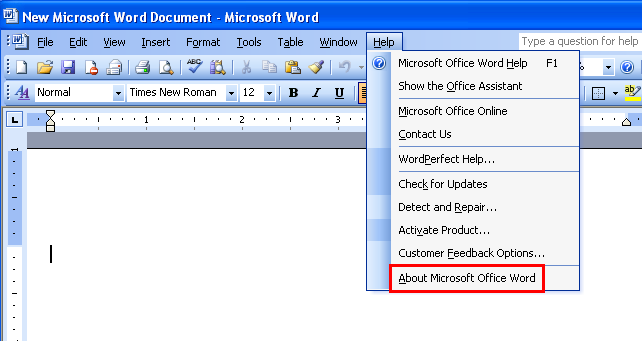 Click the About Microsoft Office Word, a new window appears. See the screen shot below, here you can view the version infomation underlined in red of your Microsoft Office 2003.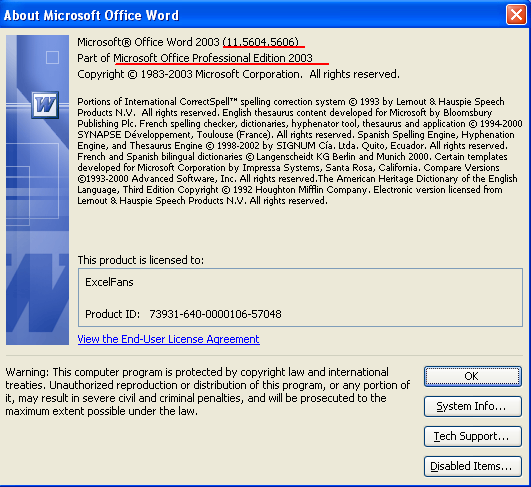 ---
About Microsoft Office Word 2007
Click the Office Button in the upper left-hand, and then click Word Options at the bottom..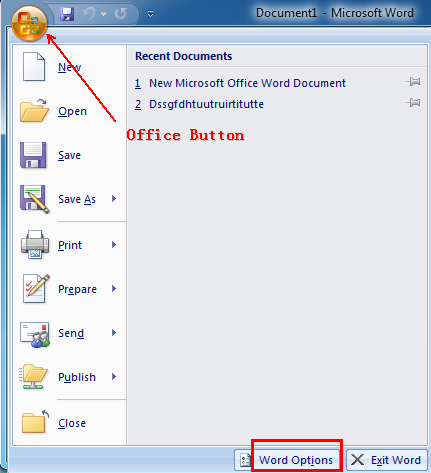 There appears Word Options window, navigate to the Resource tab at the left pane, About Microsoft Office Word 2007 is listed intuitively at the bottom of the body part. From the screen shot below, we can get such version information underlined in red. And look, I am using SP1 in my word 2007 installation.
If you want to get latest updates available for Microsoft Office, please click Check for Updates. Want more info about the version info, like the type of Microsoft Office, the license name, Product I,etc. Just click About button to bring up About dialogue.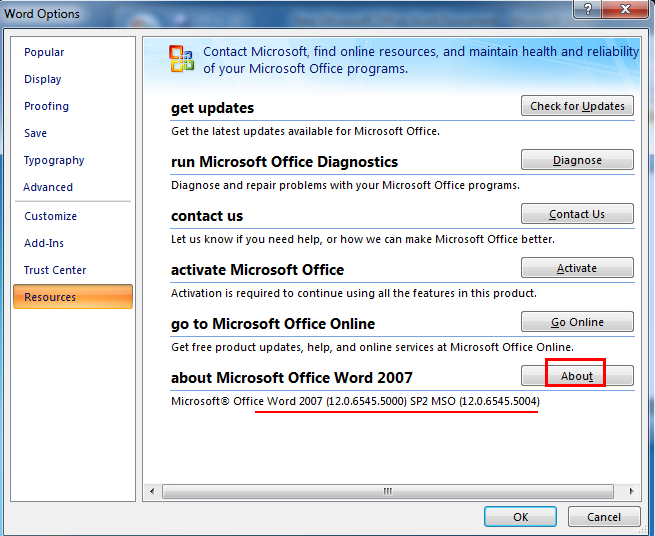 From the above comparison, it is different to find About Microsoft Office in Office 2003 and 2007. Some users may find difficult to adjust themself from the classic style interface to Ribbon in a short time. Classic Menu for Office software helps bring the familiar Office 2003 menus and toolbar back to the Office 2007 ribbon interface.
---
About Microsoft Office Word 2010
Navigate to the File tab, clik the Help item and you can see all version information and Support from Microsoft Office 2010.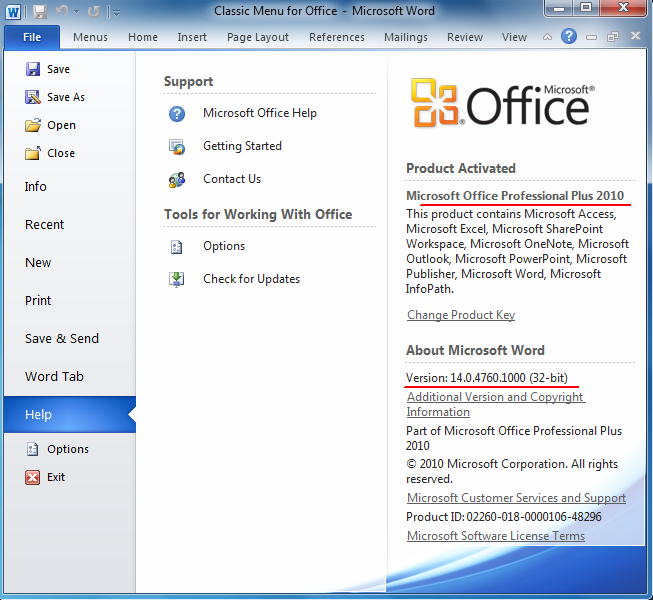 And look, you know you are using Microsoft Office Professional Plus 2010 32-bit. Why is it important to know your Office 2010 is 32-bit or 64-bit, because sometimes you need to select the right edition of some office add-ins and software to match your office 2010 in order to enhance work efficiency, like Classic Menu for Office 2010 suites, Office Tab, and Ribbon Finder and so on.
About in Word 2013
Please click File > Account, and the "About Microsoft Word" is on the right side. As follows: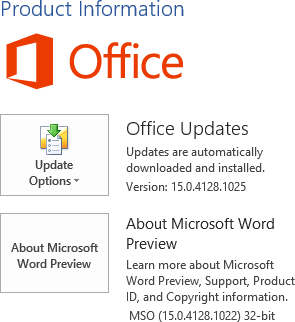 What is Classic Menu for Office
The software Classic Menu for Office is designed for the people who are accustomed to the old interface of Microsoft Office 2003, XP (2002) and 2000. It brings back the classic menus and toolbars to Microsoft Office (includes Word) 2007, 2010, 2013, 2016, 2019 and 365. The classic view helps the people to smoothly upgrade to the latest version of Office, and work with Office 2007/2010/2013/2016 as if it were Office 2003 (and 2002, 2000).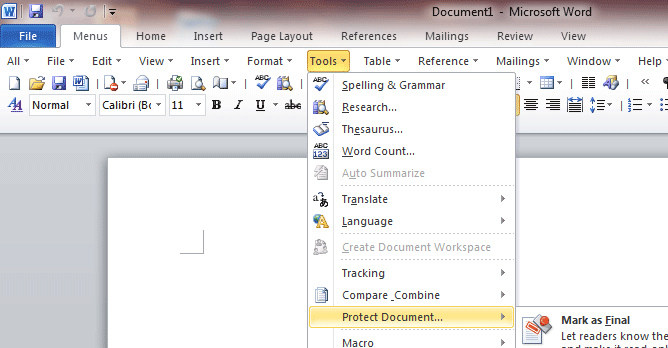 Screen Shot of Classic Menu for Word
All new features and commands of Office 2007, 2010, 2013, 2016, 2019 and 365 have been added to the menus and toolbars;
Without any training or tutorials after upgrading, users can work with Office 2007/2010/2013/2016 immediately;
Easy to find any command items you want to process;
Easy to show or hide the classic menus, toolbars and ribbon tabs;
Easy to install and use. Supports all languages. Free download!
| | | |
| --- | --- | --- |
| | | It includes Classic Menu for Word, Excel, PowerPoint, OneNote, Outlook, Publisher, Access, InfoPath, Visio and Project 2010, 2013, 2016, 2019 and 365. |
| | | It includes Classic Menu for Word, Excel, PowerPoint, Access and Outlook 2007. |