Where is AutoFormat in Microsoft Excel 2007, 2010 and 2013?
Classic Menu for Office aims to bring back the familiar user interface of Microsoft Office 2003. With it you can enjoy both interface of classic menus and Ribbon. What's more, you can easily switch two kind of interface. In the classic menu interface, you can get the AutoFormat feature with the same way that you did in Microsoft Excel 2003/XP(2002)/2000:
Click the Format drop down menu in main menus;
Then you will view the AutoFormat item.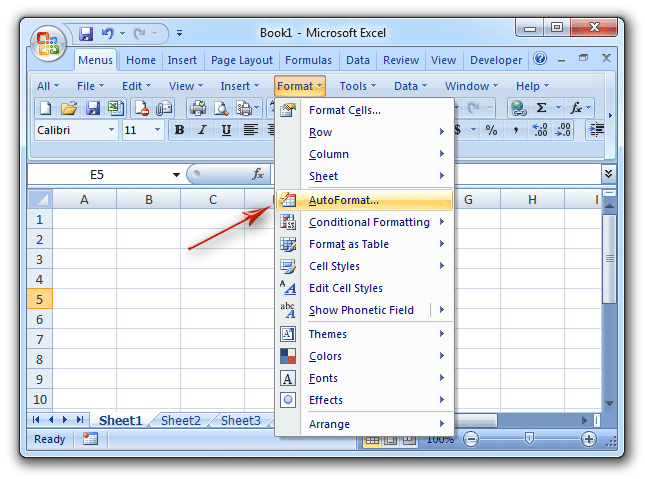 Figure 1: Apply AutoFormat in Classic Menu
---

Find out AutoFormat feature from Ribbon if you do not have Classic Menu
Actually the AutoFormat command is not on the Ribbon of Microsoft Excel 2007/2010/2013. It takes several steps to get the AutoFormat feature from Ribbon:
Click the Office Button in Excel 2007, and click the File tab in Excel 2010/2013;
Click the (Excel) options button;
Now you have entered the Excel Options window, click the Proofing button at left bar;
In the AutoCorrect Options pane, click the AutoCorrect Options button;
The AutoCorrect dialog box pops up;
Select the second tab named AutoFormat As You Type, and then you can edit the AutoFormat settings.
At last click the Ok button to finish.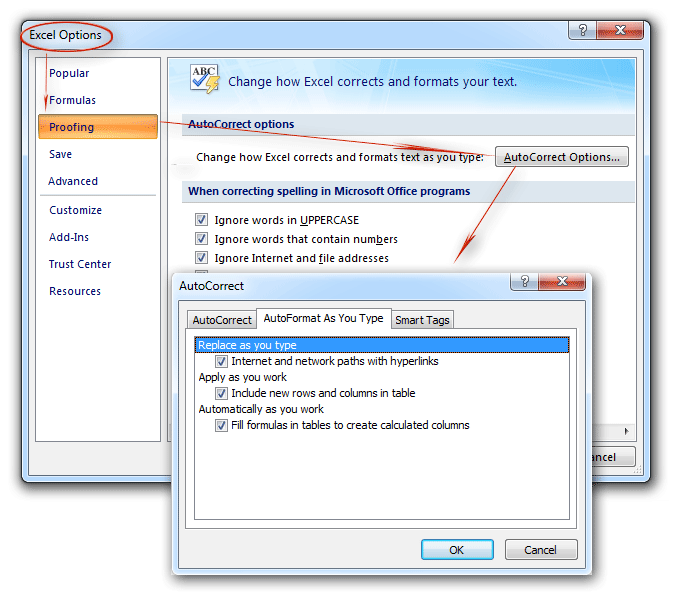 Figure 2: Apply AutoFormat from Ribbon
---

Add AutoFormat button into QAT if you do not have Classic Menu
The second method seems too hard. In fact, we can add the AutoFormat feature into QAT (Quick Access Toolbar) as a button:
Step 1: Click the Office button and Excel Options to open the Excel Options window;
Step 2: Click the Customize button (in Excel 2010, it is Quick Access Toolbar) at left bar;
Step 3: select the Commands Not in the Ribbon from the Choose commands from drop down box;
Step 4: Find out the AutoFormat in commands box and select it;
Step 5: Click Add button;
Step 6: Click the Ok button to finish customizing.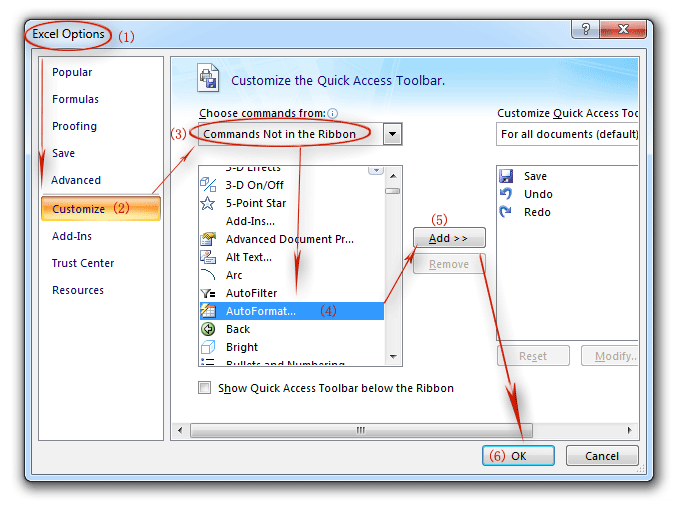 Figure 3: Add AutoFormat into QAT
Then after your finishing these steps, go to the Excel window, you will find the AutoFormat icon is in the QAT at the top of Excel Window as a button.
---

More Tips for Microsoft Excel 2007, 2010 and 2013
Classic Menu for Office
Brings the familiar classic menus and toolbars back to Microsoft Office 2007, 2010 and 2013. You can use Office 2007/2010/2013 immediately without any training. Supports all languages, and all new commands of 2007, 2010 and 2013 have been added into the classic interface.
| | | |
| --- | --- | --- |
| | | It includes Classic Menu for Word, Excel, PowerPoint, OneNote, Outlook, Publisher, Access, InfoPath, Visio and Project 2010 and 2013. |
| | | It includes Classic Menu for Word, Excel, PowerPoint, Access and Outlook 2007. |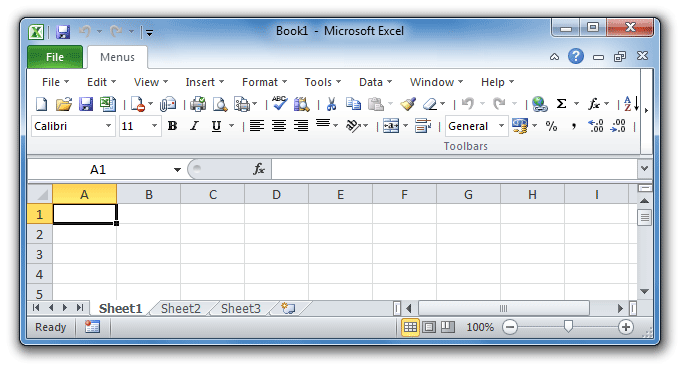 Screen Shot of Classic Menu for Excel