Where is the AutoCorrect Option in Microsoft Word 2007, 2010, 2013, 2016, 2019 and 365?
The AutoCorrect function will quickly fix the misspelling words and punctuation mistakes. You don't have to use it intentionally, it runs automatically. At this point, what if you want to configure the setting of AutoCorrect function in Microsoft 2007/2010/2013? How to disable it? Where to define the kinds of words needed to be corrected? This article focuses on how to find out the AutoCorrect Option through a simple way.
Use the familiar Word 2003 style in working with Word 2007/2010/2013/2016/2019 if you have Classic Menu for Word installed.
Just take Microsoft Word 2010 for example, which is as well as in Word 2007 and 2013. With Classic Menu for Word installed, you can click Menus tab to get back the classic style interface.
Click Tools tab
Choose AutoCorrect Options in the drop down menu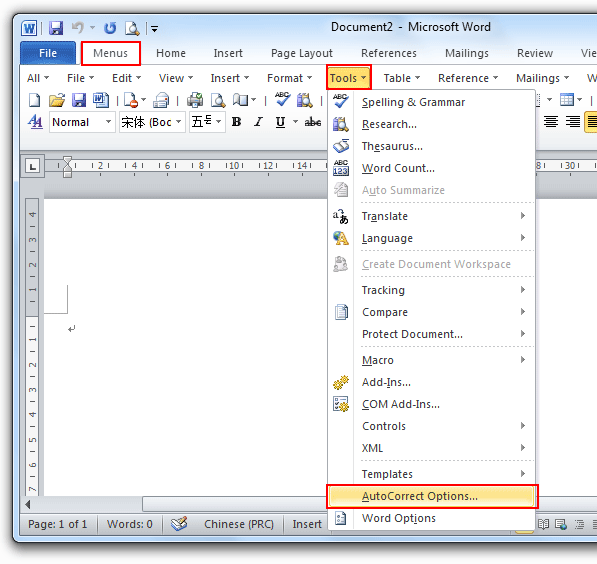 ---
In Word 2007, 2010, 2013, 2016, 2019 and 365, there is no AutoCorrect Options showed in the Ribbon. Without Classic Menu for Excel 2007/2010/2013/2016/2019 installed, it is not so intuitive to get this function, so you have to customize the Ribbon manually to get it
Click File Tab, and click "Options" item.
Click the Customize Ribbon in the Word Options window, and then, you will see Customize the Ribbon in the right pane. Choose Commands Not in the Ribbon by clicking the arrow, and then use the scroll bar to search for the AutoCorrect Options.
When finally find out the Option, click Add to add it into the Ribbon, and then click OK to finish the step.
---
More Tips
---
What is Classic Menu for Office
The software Classic Menu for Office is designed for the people who are accustomed to the old interface of Microsoft Office 2003, XP (2002) and 2000. It brings back the classic menus and toolbars to Microsoft Office (includes Word) 2007, 2010, 2013, 2016, 2019 and 365. The classic view helps the people to smoothly upgrade to the latest version of Office, and work with Office 2007/2010/2013/2016 as if it were Office 2003 (and 2002, 2000).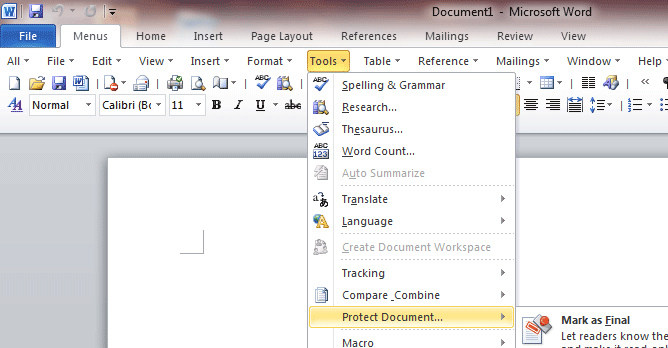 Screen Shot of Classic Menu for Word
All new features and commands of Office 2007, 2010, 2013, 2016, 2019 and 365 have been added to the menus and toolbars;
Without any training or tutorials after upgrading, users can work with Office 2007/2010/2013/2016 immediately;
Easy to find any command items you want to process;
Easy to show or hide the classic menus, toolbars and ribbon tabs;
Easy to install and use. Supports all languages. Free download!
| | | |
| --- | --- | --- |
| | | It includes Classic Menu for Word, Excel, PowerPoint, OneNote, Outlook, Publisher, Access, InfoPath, Visio and Project 2010, 2013, 2016, 2019 and 365. |
| | | It includes Classic Menu for Word, Excel, PowerPoint, Access and Outlook 2007. |