Difference of File Menu between Word 2003, Word 2007 and Word 2010
There is a few difference of the File menu between Classic Menu for Word 2007/2010 and Word 2003. The File drop down menu in Word 2007 and 2010 includes 18 menu items, while 16 menu items in Word 2003.
Modified Menu items of the File Menu in Word 2007 and 2010
| | | |
| --- | --- | --- |
| File drop down menu in Word 2010 | | File drop down menu in Word 2003 |
(1)New
By the New in Word 2003, we can build blank document, XML document, web page, E-mail messages or From existing document.... In addition, you can also apply templates from Office online, your computer and web site.
By the New in Word 2010, we can build numerous kinds of documents. Meanwhile, there are many templates, such as Invoice and Blog post.
(2)Save/ Save AS
There is great difference between Save/Save As in Word 2010 and those in Word 2003. In Word 2003, you can save documents in several formats.
Nevertheless, by the Save or Save As items in Word 2010, you are able to save word documents as Template, Word 97 – 2003 Document, OpenDocument Text, PDF or XPS, Single Web Page, and Save as Another File Type as well. Especially the PDF or XPS is quite useful, but Word 2003 does not support it. With this feature, we are able to create new PDF in familiar Microsoft Word directly.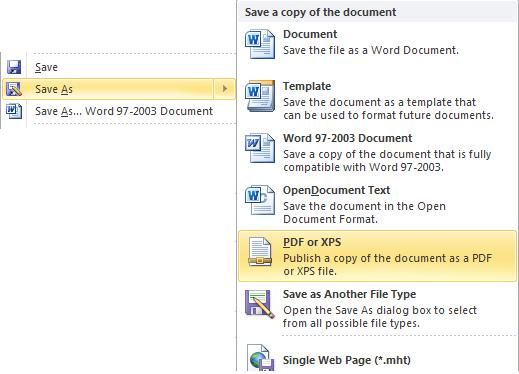 Documents made by Word 2010 are with the format of ".docx", which is not compatible with Microsoft Word 2003. As a result, we add a new item Save as… Word 97-2003 Document in File drop down menu.
Click to know more function comparison about Save as in Word 2003, 2007, and 2010.
(3)File Search… and Versions
File drop down menu, brought with Classic Menu for Office 2010, gets rid of "File search..." and "Versions" items of Word 2003.
(4)Restrict Permission and Permission
In the File drop down menu of Word 2010, the "Restrict Permission" item takes place of "Permission" of Word 2003. Actually the two items have the same functions.

The Classic Menu in Word 2010 not only changes this function's name, but also moves it down to the 11th of File menu list in Word 2010, which stands in 8th in Word 2003.

(5) Prepare
This item is a new one in the File drop down menu of Word 2010, standing at 7th of File menu list. To be honest, "Prepare" in Word 2010 is quite similar with "Properties" which stays at the second to last in the File of Word 2003.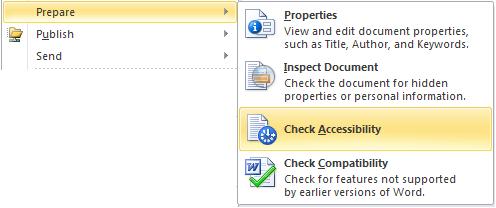 Apart from "Properties" staying in "Prepare", there are another three sub-items in "Prepare":
Inspect Documents
Check Accessibility
Check Compatibility
(6)Publisher
"Publisher" item is a new one in the File drop down menu of Word 2010, standing at 8th of File list. There are no similar functions in Word 2003.

"Publisher" item will help us distribute our word documents to other people as Blog post or via Document Management Server. So it has two sub-items: Blog and Document Management Server.
(7) Send
Both classic menus in Word 2010 and 2003 include "Send". However, there is great difference between both. Because Word 2010 can convert documents into PDF and XPS files directly, we are able to send current documents via emails as PDF/XPS attachments.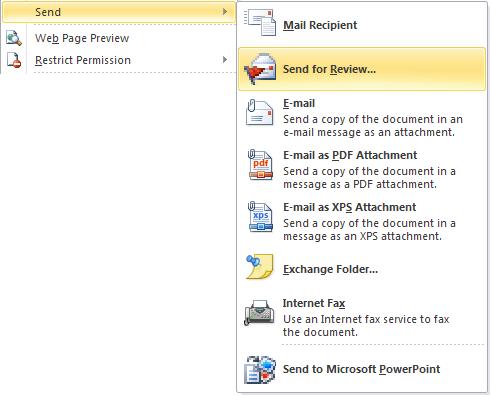 The same items in Send of Word 2010 and 2003 are: Mail Recipient, Exchange Folder…, Send to Microsoft PowerPoint, (Recipient using) Internet Fax.
Those only in the Send of Word 2010 are: Send for Review, E-mail, E-mail as PDF Attachment, and E-mail as XPS Attachment.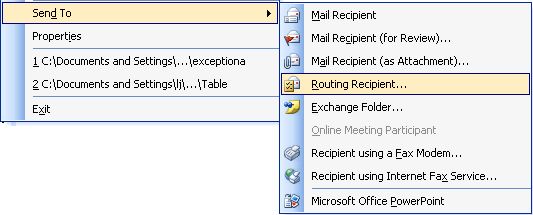 Those only in Send to of Word 2003 are: Mail Recipient (For Review), Mail Recipient (as Attachment), and Recipient using a Fax Modem…
(8)Web Page Preview
Web Page Preview in Word 2010 remains same as that in Word 2003.
(9)Page Setup…
Classic menu in Word 2010 greatly extends the functions of Page Setup… . By Page Setup… in Word 2010 you can preview all sub-items. It will be more visual and easy-to-use. It does not need to open Page setup… windows and then select desired options again.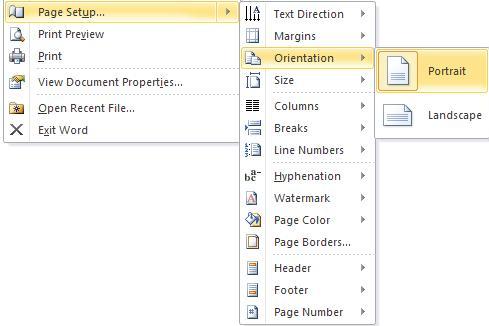 Page Setup… contains numerous sub-items:
Text Direction
Margins
Orientation
Size
columns
Breaks
Line Numbers
Hyphenations
Watermark
Page Color
Page Borders…
Header
Footer
Page Number
Directly preview these options and save amount of time.
(10) Print Preview, Print, and View Document Properties
There are no changes between Print Preview in Word 2003 and Print in Word 2010. The View Document Properties in Word 2010 is same as Properties in Word 2003. No functional changes!
(11)Open Recent File
By Open Recent File item, we are able to open files that we viewed or opened recently. This function is supported by My Recent Documents with Start >>> All Programs >>> My Recent Documents in Windows XP with Microsoft Office 2003. The classic menu in Word 2010 absorbs this feature and adds it to File drop down menu, which makes our work much easier and faster.
More Articles
What is Classic Menu for Office
The software Classic Menu for Office is designed for the people who are accustomed to the old interface of Microsoft Office 2003, XP (2002) and 2000. It brings back the classic menus and toolbars to Microsoft Office (includes Word) 2007, 2010, 2013, 2016, 2019 and 365. The classic view helps the people to smoothly upgrade to the latest version of Office, and work with Office 2007/2010/2013/2016 as if it were Office 2003 (and 2002, 2000).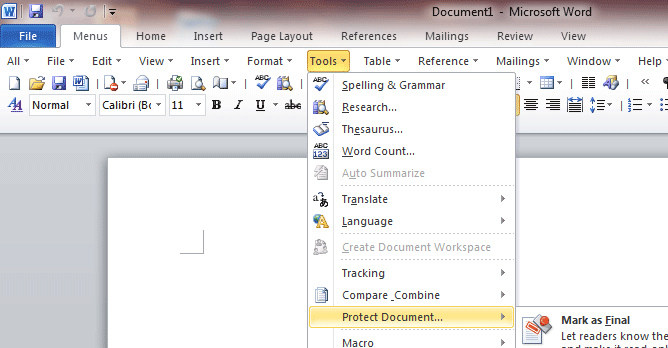 Screen Shot of Classic Menu for Word
All new features and commands of Office 2007, 2010, 2013, 2016, 2019 and 365 have been added to the menus and toolbars;
Without any training or tutorials after upgrading, users can work with Office 2007/2010/2013/2016 immediately;
Easy to find any command items you want to process;
Easy to show or hide the classic menus, toolbars and ribbon tabs;
Easy to install and use. Supports all languages. Free download!
| | | |
| --- | --- | --- |
| | | It includes Classic Menu for Word, Excel, PowerPoint, OneNote, Outlook, Publisher, Access, InfoPath, Visio and Project 2010, 2013, 2016, 2019 and 365. |
| | | It includes Classic Menu for Word, Excel, PowerPoint, Access and Outlook 2007. |