Difference of Table Menu between Word 2003, Word 2007 and Word 2010
There are a few changes in new Table menu of Classic Menu for Word 2007/2010. It remains all items from old Table menu of Word 2003. However, the new one enhances some features, such as draw Table. When we create/editing tables, no more Table and Borders Toolbar will come out and help us drawing table as what classic menu in Word 2003 did. Free Download...
Modified Menu Items of the Table Menu in Word 2007 and Word 2010
| | |
| --- | --- |
| Distribute Rows | Distribute Columns |
| | | | |
| --- | --- | --- | --- |
| Insert | Delete | Select | Merge Cell |
| Split Cell… | Split Table | Table AutoFormat… | Heading Row Repeat |
| Convert | Formula… | Show Gridlines | Table Properties |
| Sort… | | | |
In Word 2010's Ribbon, the user interface will jump automatically to the Table Tools tab when we build or edit tables. And the Table Tools tab is invisible except we building or editing tables. Classic menu in Word 2010 is consistent with what Word 2010's Ribbon does; it will guide us to the Table Tools tab by default for editing tables.

In addition, Classic Menu in Word 2010 makes slight adjustment on AutoFit. In Word 2010 the old AutoFit is divided into three items:
Distribute Rows
Distribute Columns

AutoFit

which includes Autofit Contents/Windows
And the new AutoFit in Word 2010 consists of another three sub-items:
AutoFit Contents
AutoFit Window
Fixed Column Width

Apart from these familiar items, the other menu items in Word 2010 have the same functions as those in the Table menu in Word 2003.
| | | |
| --- | --- | --- |
| Table drop down menu in Word 2010 | | Table drop down menu in Word 2003 |
What is Classic Menu for Office
The software Classic Menu for Office is designed for the people who are accustomed to the old interface of Microsoft Office 2003, XP (2002) and 2000. It brings back the classic menus and toolbars to Microsoft Office (includes Word) 2007, 2010, 2013, 2016, 2019 and 365. The classic view helps the people to smoothly upgrade to the latest version of Office, and work with Office 2007/2010/2013/2016 as if it were Office 2003 (and 2002, 2000).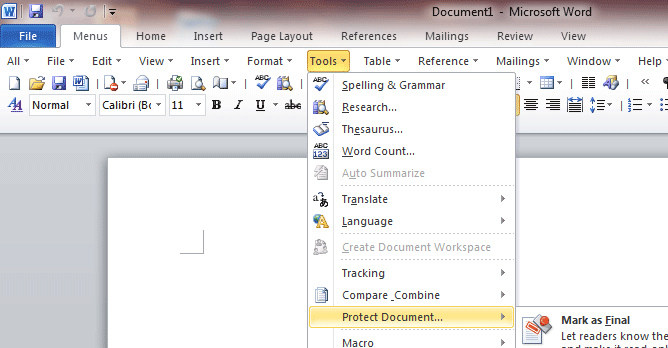 Screen Shot of Classic Menu for Word
All new features and commands of Office 2007, 2010, 2013, 2016, 2019 and 365 have been added to the menus and toolbars;
Without any training or tutorials after upgrading, users can work with Office 2007/2010/2013/2016 immediately;
Easy to find any command items you want to process;
Easy to show or hide the classic menus, toolbars and ribbon tabs;
Easy to install and use. Supports all languages. Free download!
| | | |
| --- | --- | --- |
| | | It includes Classic Menu for Word, Excel, PowerPoint, OneNote, Outlook, Publisher, Access, InfoPath, Visio and Project 2010, 2013, 2016, 2019 and 365. |
| | | It includes Classic Menu for Word, Excel, PowerPoint, Access and Outlook 2007. |