New Reference Drop Down Menu in Word 2007 and Word 2010
Reference menu is a new menu in Classic Menu for Word 2007 and 2010. This menu comes from Insert drop down menu of Word 2003. To be in conformity with new Reference Tab in Word 2010 , We create Reference drop down menu and add it into classic menus in Word 2010.
Reference Dropdown Menu in Word 2010


Reference of Insert Menus in Word 2003

Reference dropdown menu in Word 2010 remains those Reference items of Word 2003. So some items are not strange for us, such as Insert Footnote.

The new Index and Tables of Reference dropdown Menu in Word 2010 is completely same as Index and Tables in Word 2003. And the following Table of Contents, Add Text, and Update Table… are functional expansion of Index and Tables.
Insert Footnote is also same as Footnote in Word 2003. But Insert Endnote, Next Footnote, and Footnote and Endnote Dialog… are new ones in Reference Menu of Word 2010.
Apart from these ones, Classic Menu in Word 2010 brings in various items into Reference Menus of Word 2010: Insert Citation, Manage Sources…, Bibliography, index, and Table of Authorities. Insert Citation contains two sub-items: Add New Source… and Add New Placeholder…

The new index includes three options: Mark Entry…, Insert Index…, and Update Index.

Classic Menu in Word 2010 enhances the function of Captions, and expends its function to four as follow:
Insert Caption…
Insert Table of Figures…
Update Table
Cross reference.

More Articles
What is Classic Menu for Office
The software Classic Menu for Office is designed for the people who are accustomed to the old interface of Microsoft Office 2003, XP (2002) and 2000. It brings back the classic menus and toolbars to Microsoft Office (includes Word) 2007, 2010, 2013, 2016, 2019 and 365. The classic view helps the people to smoothly upgrade to the latest version of Office, and work with Office 2007/2010/2013/2016 as if it were Office 2003 (and 2002, 2000).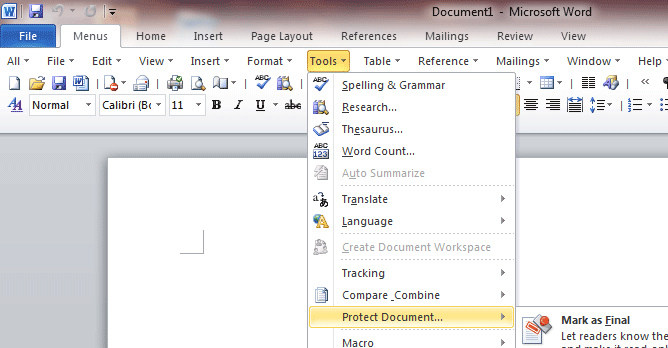 Screen Shot of Classic Menu for Word
All new features and commands of Office 2007, 2010, 2013, 2016, 2019 and 365 have been added to the menus and toolbars;
Without any training or tutorials after upgrading, users can work with Office 2007/2010/2013/2016 immediately;
Easy to find any command items you want to process;
Easy to show or hide the classic menus, toolbars and ribbon tabs;
Easy to install and use. Supports all languages. Free download!
| | | |
| --- | --- | --- |
| | | It includes Classic Menu for Word, Excel, PowerPoint, OneNote, Outlook, Publisher, Access, InfoPath, Visio and Project 2010, 2013, 2016, 2019 and 365. |
| | | It includes Classic Menu for Word, Excel, PowerPoint, Access and Outlook 2007. |