Show Classic Menus and Toolbars on the Ribbon of Microsoft Office 2007
---
Classic Menu for Office 2007
Frustrated by endless searches for features on the Microsoft Office 2007 ribbon? Download and install this software to bring back the familiar menus and toolbars. The classic view allows you to work with Office 2007 as if it were Office 2003. It not only includes Classic Menu for

Word,

Excel and
PowerPoint 2007, but also includes Classic Menu for

Access and

Outlook 2007. If you are using Office 2010 or 2013, please visit Classic Menu for Office 2010 and 2013.

All New Features of Office 2007. All new features and commands of Microsoft Office 2007 have been added to the main menu, standard toolbar and formatting toolbar. The Office 2007 ribbon tabs are available so that you can have the best of both worlds: the new interface and the classic interface.
Description
Screen Shots
Details
Awards

Office 2007 Menu and Toolbar
You will see the old toolbars and menus on the ribbon of Office 2007. This will make Office 2007 look like 2003, XP and 2000. With the Office 2007 menus, you can still enjoy many old functions of Office 2003, Office XP (2002) and Office 2000 that have been removed from Office 2007.

Easy to Deploy for Enterprises and Organizations

Save Time and Money on Training
Quickly find and execute the commands you want with the old menu and look. Use Microsoft Office 2007 suites and applications immediately, without any training or tutorials. Save time and money on training! Improve working efficiency immediately!

Multiple Languages
This software supports all languages that are supported by Microsoft Office 2007, including: English, French, German, Italian, Spanish, Portuguese, Japanese, Dutch, Chinese and more. If you change the language of Office 2007, the language of the classic menu will automatically be changed. There is no need to change any settings. All languages are included in a single installation package.
More Office 2007 Toolbars
In addition to the main menu, standard and formatting toolbars, this software offers additional toolbars, such as comments, proofing, tracking, mailings and reference for Office 2007. You can display these toolbars as needed (click View > Toolbars > Show Additional Toolbars).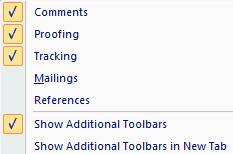 Old Keyboard Shortcuts of Previous Versions of Office
The original old keyboard shortcuts of Microsoft Office 2003, 2002 and 2000 are available. Press Alt-Q, and you can use the familiar keyboard shortcuts again.



Easy to Install, Uninstall and Use
Many Office add-ins provided by other independent software vendors are very difficult to install and use, but the Classic Menu for Office 2007 is very easy to install and uninstall, just like common software. You do not need any special skills or technology to use it.

60-Day Money Back Guarantee
100% satisfaction is guaranteed, along with free updates (service packs, patches and higher versions of the Classic Menu for Office 2007) and support.

Fully Compatible
The software is fully compatible with Microsoft® Windows® 10/8/7/Vista (32/64), XP, Windows Server 2003/2008/2012/2016 (32/64), Windows Terminal (Remote Desktop) Server and Citrix System.

Designed for All Office 2007 Suites
The classic menus and toolbars are designed for all suites of Microsoft Office 2007.
Microsoft Office Home and Student 2007
Microsoft Office Standard 2007
Microsoft Office Small Business 2007
Microsoft Office Professional 2007
Microsoft Office Professional Plus 2007
Microsoft Office Ultimate 2007
Microsoft Office Enterprise 2007
Easy to Show/Hide Menus and Toolbars
It is easy to show or hide the built-in tabs on the ribbon. It is also easy to show or hide menus and toolbars in Office 2007. You can change the position of the classic menus.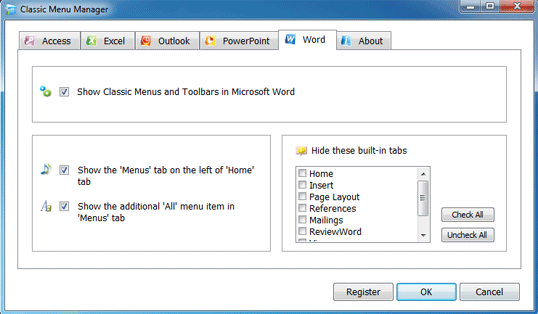 Stable and Reliable
The classic menu provides faster startup. It has a small file size:5.0 MB(.exe file) -9.9 MB(.msi file). It is also based on standard Microsoft Office add-In technology, which is more stable and reliable.


Multiple Languages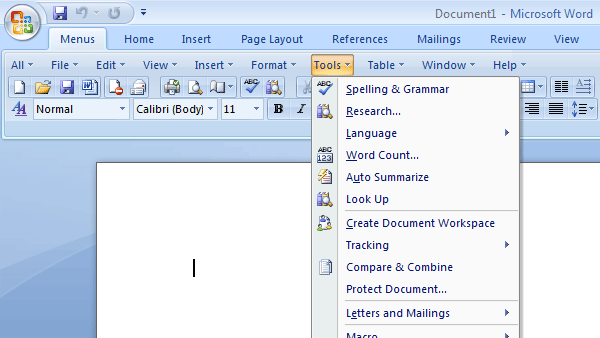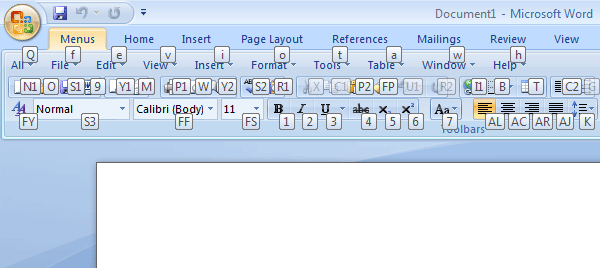 Classic Menu Programs

Classic Menu for Word 2007
Classic Menu for Excel 2007
Classic Menu for PowerPoint 2007
Classic Menu for Access 2007
(The World's Only Classic Menus Designed for Access 2007)
Classic Menu for Outlook 2007
(The World's Only Classic Menus Designed for Outlook 2007)
Classic Menu Manager

Features List

International Languages Support
All Languages Included in the Installation File
All New Features of Office 2007 are Available
Original Features of Office 2003, XP and 2000 (Which Removed by Office 2007) are Available
(Most)
Main Menu, Standard Toolbar, Formatting Toolbar
Additional Toolbars
Additional Toolbars Can be Hide
User Can Disable Menus and Toolbars
User Can Hide the "All" Menu Item
User Can Hide the Build-in Tabs on Ribbon
Change the Position of Classic Menu
Click Once and Browse The Whole Menus
(Browse the "All" menu item)
Familiar Keyboard Shortcuts

Managing and Deploying

Administrator Can Disable/Enable Classic Menu for All Users on Computer or Server
Common Users Can Disable/Enable Classic Menu (When Administrator Enabling Classic Menu)
Administrator Can Deploy the Classic Menu to Whole Enterprise (Organization, College...)
Administrator Can Enter the License Info and Change the Setting When Deploying

Support and Service

60-Day Money Back Guarantee
Provide .MSI File for Network Deploying
---
Editor's Reviews
If you find yourself spending way too much time trying to locate frequently-used Microsoft Office commands through its newly designed interface, this program is for you...
- CNET (www.Download.com is a web site of CNET)
...Sensing an opportunity, third-party software vendors have stepped in with products that either replace or enhance the new Ribbon interface in several Office 2007 applications... Classic Menu adds a tab filled with Office 2003 menus...
- ComputerWorld
#10: Adding on a "classic" user interface... If you want, you can install a third-party add-on that gives you back the old menu bar without sacrificing the new Ribbon. Classic Menu for Office 2007 installs easily...
- TechRepublic
---
User's Reviews
I love you - I love you!! I just downloaded the classic toolbar program from you and you are a life saver!!!
I started a new job a couple months ago and haven't worked on a PC in about 5 years (I've been using a Mac) and the Office 2010 toolbars are a joke. After 2 months of frustration from searching for various actions that aren't on my toolbars, I came across your download. So I just wanted to say THANKS!!!! You have made my life SO much easier!
-Eydie
BioScientific, Inc. / Great Big Plants
Dear Sirs,
I just want to let you know how much I appreciate your Classic Menus program. Without it, I would not be prepared to use Microsoft's latest Office software.
Yours
Andrew Lovell
Hello,
Thank you very much for your very useful advice. Everything worked perfectly.
May I take the opportunity of saying how much I like the Classic menu for Office product. It is absolutely excellent and has saved me many, many hours of frustration. I've recommended it to several colleagues, who are equally satisfied.
Regards
John Ashton
Hi,
Thank you so much for your kindness and sense of service. I think your products are wonderful and regularly recommend your add-ins, which make life easier with the impossibly complicated new Office products.
Thank you again,
Dafydd MB
You Rock! It worked like a charm!
You don't know how much I appreciate this application!!! I still can't believe that Microsoft doesn't have this built into their Office 2007 product. You folks to the rescue :o)
Have a great weekend!
Diane
Awesome! Thank you so much for your helpful and speedy response. I followed the instructions for the uninstall and download, and it couldn't have been easier. Word even opened faster than before.

Thanks for great service. I'm sure as more people upgrade to Office 2007, you'll be hearing from lots of folks frustrated by not being able to perform tasks quickly as they did with Office 2003. Feel free to use my "testimonial" for your marketing.
Elizabeth
sales@addintools,
I had been remaking the tool menus, what a pain, does MS know that you do not
change something that already works great. Well, I found Addintools threw a Google
search and installed your software, you don't know how wonderful it is to have my
customized toolbar back after almost a year of their "NEW" look. All is fine now
thanks to your staff at Addintools.
Thank you, Roy

*Microsoft and the Office logo are trademarks or registered trademarks of Microsoft Corporation in the United States and/or other countries.