Where Is the Tools Menu in Microsoft Excel 2007, 2010, 2013, 2016 and 2019
The ribbon interface in Excel 2007, 2010, 2013, 2016 and 2019 has distributed and grouped menus and toolbars under different tabs. While this grouping is convenient, some users find it difficult to locate specific commands, earlier found in the tools menu, across different tabs.
If you are a fan of the classic style interface, finding a specific function, from the former Tools menu, in the new ribbon interface can be a challenge! But with Classic Menu for Excel 2007/2010/2013, the same task can be super simple! For example,
Find each function by clicking on different tabs. The ribbon interface has abandoned the menus and toolbar style, and the functions in the former locations have been regrouped. For example, the Spelling function has been moved to the Review tab, and listed under the Proofing functions. The Protection function has also been moved to the Review tab, and is listed under the Changes group.
---
Click the Menus tab to experience the classic style interface and find the Tools menu easily. Click the arrow next to the Tools to access the familiar functions from the dropdown menu.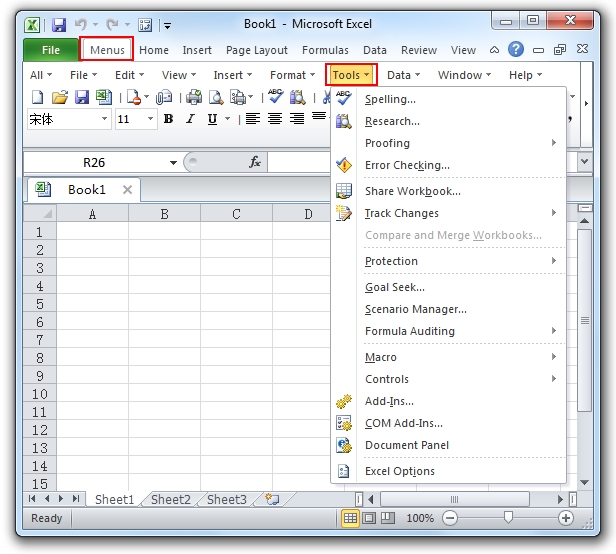 ---
More Related Articles...
Classic Menu for Office
Brings the familiar classic menus and toolbars back to Microsoft Office 2007, 2010, 2013 and 2016. You can use Office 2007/2010/2013/2016 immediately without any training. Supports all languages, and all new commands of 2007, 2010, 2013 and 2016 have been added into the classic interface.
| | | |
| --- | --- | --- |
| | | It includes Classic Menu for Word, Excel, PowerPoint, OneNote, Outlook, Publisher, Access, InfoPath, Visio and Project 2010, 2013 and 2016. |
| | | It includes Classic Menu for Word, Excel, PowerPoint, Access and Outlook 2007. |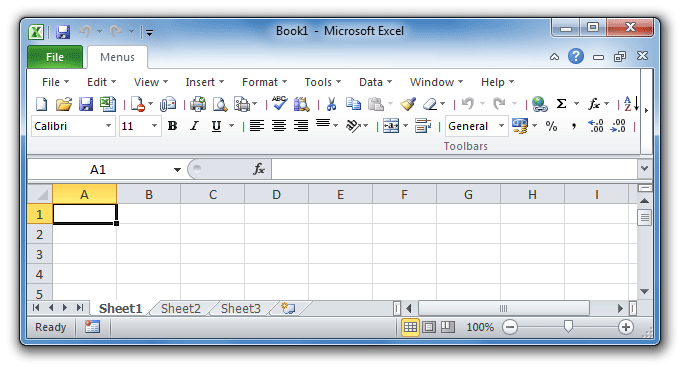 Screen Shot of Classic Menu for Excel